Email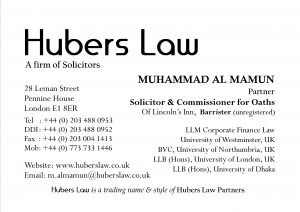 Mr. Al Mamun has gained a number of successive law degrees in both undergraduate and postgraduate levels before qualified as a Solicitor in 2010. He was called to the Bar in 2003 as a Barrister of Honourable Society of Lincoln's Inn. Since he commenced legal practice, he has worked with several other firm of solicitors and gained expertise in various areas of law. His great latitude of legal knowledge, expertise and versatility in both academic and practising dimension often mesmerise our clients. He is one of the founding Partners of Hubers Law and responsible for the role of the Compliance Officer for Finance and Administration [COFA] for this firm since October 2015.
Mr. Mamun has broad experience of all aspects of commercial and residential property with a particular emphasis on real estate investment with conveyancing and landlord and tenant matters. His practice includes advice on landlord & tenant, residential & commercial conveyancing, immigration, civil dispute & resolution and advice on company & corporate matters. His multiple law degrees allow Hubers Law in managing a range of disputes involving a variety of jurisdictions.
Having long years of experience in legal matters makes the clients recommend Mr. Mamun for his quality of care and satisfactory service. He is also regarded as a very convenient solicitor, who deeply cares for the best achievements of each and every client's objectives.
Apart from being a lawyer, Mr. Mamun is a family man, who is very passionate to his baby daughter and son.