Email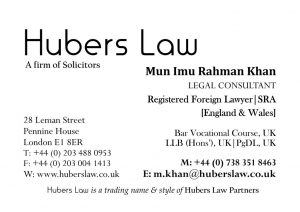 Mr Mun Imu Rahman Khan is a lawyer practising in dual jurisdiction. He is a Registered Foreign Lawyer under SRA in the UK and an Advocate of the Supreme Court of Bangladesh. He has well reputation of appearing regularly before judicial review benches, civil benches, and some criminal benches of the Supreme Court of Bangladesh.
Prior to joining the legal practice, Mr Khan acquired a Bachelor of Law from the University of London and trained as a Barrister from the City Law School, UK. In 2010, he was called to the Bar as Barrister of England and Wales.
Besides his legal practice in foreign jurisdiction as a counsel, Mr Khan now have joined Hubers law as a legal Consultant in 2020.His area of practice and interest includes Public law (Judicial Review), Human Rights, Immigration Law, Civil Claims (Unlawful detention) & Arbitration.
Mr Khan takes pride in his ability to critically analyse a client's available options, which in his experience leaves the client in a position to make an informed decision about their desired course. Mr Khan is passionate about providing a high-quality service and achieving the best results for his clients. Clients often praise his ability to see their case from a professional perspective and he is well known by colleagues and clients for his pragmatic approach in the legal spectrum.